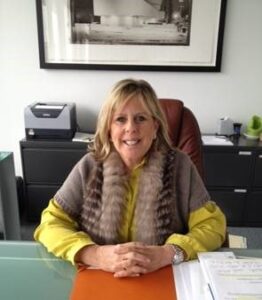 HEWLETT, N.Y. — In today's technology-dominated business environment, a focus on relationships often gets lost in translation.
When you meet Louise Greenberg, CEO of The Greenberg Group, a NY-based real estate advisory firm to the nation's leading retail brands, you can't help but notice her warmth, impeccable style, passion for retail, and captivating, inspiring spirit.
For Louise Greenberg, client recruitment and ultimate business success is about creating one-on-one connections. She joined her husband Steven during 1997, and has since personally landed many prominent brands as clients including Crocs, Penguin, Lacoste, Faconnable, Puma, Ports 1961, Roche Bobois, Vince, White House/Black Market, Maurice Villency, Stuart Weitzman, and Anne Fontaine, among others.
There is no form of technology that can yield this type of success.
What makes this challenge more daunting is the fact there is only one executive who would hire The Greenberg Group – the CEO. If Louise can't convince the chief executive, then she will not succeed in her mission.
According to Greenberg, following are 7 key ingredients to her success:
— Live the product – personally visit and shop the retailer's stores.
— Quickly highlight why they should hire you – in 10 words or less.
— Attend conferences – those that cater to your target audience.
— Avoid email – deals happen in real time, face-to-face.
— Network creatively – know what is on the CEO's agenda.
— Research the company – understand management style and changes.
— Keen intuition – be in the right place at the right time.
"There are certain intangibles that are irreplaceable to the process of landing a meeting with a high-level executive who may have no idea why he or she needs to immediately hire your firm," says Louise Greenberg. "It does take some luck – but there clearly are ways to make your own luck."
The Greenberg Group (Hewlett, N.Y.) is a leading real estate advisory firm that specializes in providing market research and analysis, sales forecasting, site selection, and deal negotiation for several of the nation's premier retailers. www.thegreenberggroup.com